Thanks to Black Lives Matter Grassroots many people were able to see what freedom and liberation could look like in real time for everybody, everywhere, all the time at the People's Justice Festival.
Black Lives Matter Turns 10 was a historical occasion and I'm so grateful to have been present to witness the love and dedication of organized people being a source of loving Blackness for a decade.
Those who can't imagine what a world without police looks like may now be able to see how we can protect and serve our own people. Use this day, the day BLM turned 10 as a template for what our days ahead could look like every day!
I'm will continue to pray for my comrades in the movement for Black lives – over the vision, the leadership and the work for our people.
Day One: All Hands On Deck.
We flew in and immediately got to work. We volunteered and helped prep for the festival the next day. I was so excited to hang out at BLM HQ in their beautiful new building. It's huge!!! They have lots of room for programming and to serve the entire community in Africatown and all of LA…
Day Two: People's Justice Festival
This day was busy and jam-packed with sunny day activities. It was a scorcher outside (I have the tan lines to prove it!) The day started for me and mom with an interview with Dr. Melina Abdullah on Tavis Smiley's radio station KBLA. We then headed to Lamiert Park for the People's Justice Festival. The lineup included hosting from Porche Miller and Tavis Smiley and a keynote from political scholar and presidential candidate, Dr. Cornell West, and a surprise performance/talk from the one and only Chuck D. In VIP we got to spend time with some other notable individuals like Rizza Islam, Gina Belafonte, Janaya "Future" Khan and Yonasda Lonewolf. It was a TIME!!!! There was also a garden created especially for impacted families with pictures of all the stolen lives.
After the festival, BLM wanted to celebrate their hard work so we all went to this beautiful poolside dinner at this gorgeous house. Y'all… Kendrick Sampson came through… I had to build up my courage but I definitely introduced myself… He kinda seemed more nervous than me though after I told him who I was… After our awkward interaction, I didn't dare ask for a picture.
Day Three: All Around Town
With some help from my internet cousins (and a few real ones), I found a church to go to on Sunday… Mom and I brought some of the mothers with us to the historical Normandie Church of Christ where Minister Stanley Talbert and the congregation welcomed us with open arms.
After service, we were treated to lunch at Nipsey Hussle's stepfather's restaurant Bayou Grille (Thank you Bro. Michael Smith!!!) You never know who you'll meet in the Church of Christ. We made some wonderful connections and even bumped into some family members.
We made our way to Long Beach to support the bench reveal and support Pamela Fields. We wanted to be there to honor her son Donte Jordan.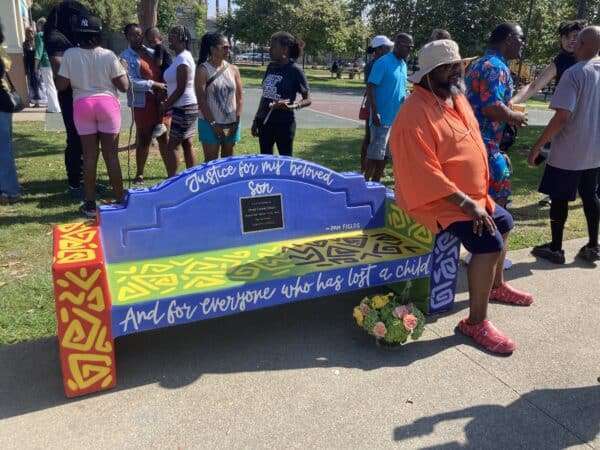 On our way back to the hotel we made a little time to put our feet in the sand at Venice Beach.